Steps to Block a Website on Chrome on your system
Step 1- Open Chrome and go to the Block site Page where it can be installed.
Block Site extension is used to block individual pages or entire websites. Along with this, it authorizes you to control the access to your block list in order to sustain its integrity by setting a password.
Step 2- Click on "Add to chrome." It will then redirect you to a new address where you have to Click "Add Extension" in the pop-up options. This prompts the installation of Block Site.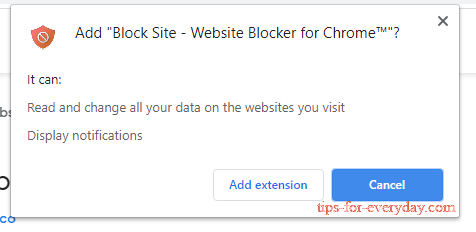 Step 3- In this step, a page loads where you can enter the websites or specific webpages you want to block. You have to copy-paste the URL of the website/website to wish to add to the blocklist. After filling the input field click on the The button next to it. The website will be successfully added to the block list.
Step 4- Now, this step is for securing your blocklist from any unwanted access or modification. Go to the "Password Protection" tab. Amongst the four choices, tick check the box next to the option "Protect your preferred Blocksite options and Chrome extension page with a password."
As soon as you check the box, you will be asked to enter an email ID and set a password. Click "Save" after filling the input fields. Make sure you enter an ID which is active because its verification is required.
Step 5- You will be asked to verify the entered email ID. Click, "OK." Now open your email and click on "Verify Now."
Step 6- Last, but one of the most crucial steps is to enable it for the Incognito mode. If this is not done, anyone can access the blocked websites by opening the Incognito mode. Hence no use of restricting the sites/pages.